Thomas De La Rue & Company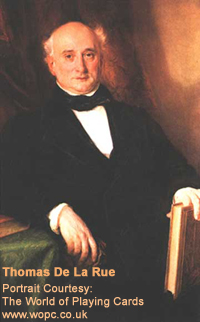 Thomas De La Rue, born in 1793 in Guernsey, England.
He began his carrier working for his brother in law, in 1804, at the ripe old age of ten. He set out on his own in 1818 as a paper manufacturer and produced his first playing cards, which he was most noted for in 1832 (see photo below).
Thomas De La Rue passed away in 1866 but his company flourished.
Although the company was instrumental in the publishing of Christmas Cards, New Year Cards and other Cards for almost ten years, the firm was most famous for its beautiful bank notes and playing cards (see photos below).
The company merged with the Waddington Company of Leeds in 1963 and in 1969 was bought out by them completely. Thomas De La Rue was honored with a set of Postage Stamps (see below) issued in June 1971.
The De La Rue company still to this day is the leading producer of bank notes.
---



Christmas Card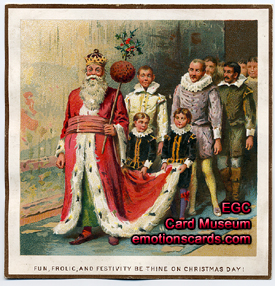 New Year's Card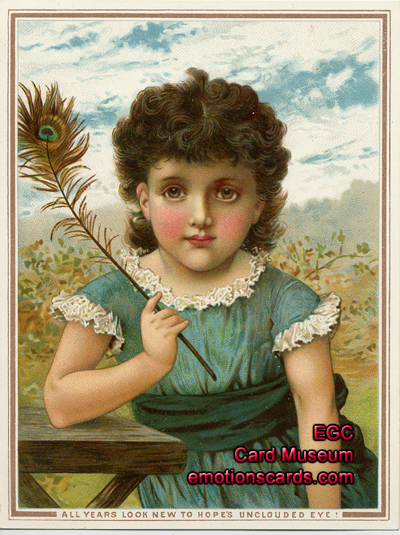 Bank Notes


Click on the Bank Notes (Ecuador) to view enlargement and detail.



Click on the Bank Note (Costa Rica) to view enlargement and detail.



Playing Cards


Click on Playing Card Box
to view enlargement of box and cards.



Postage Stamps


Click on Stamps to view enlargement
---
Visit our Greeting Card Galleries where we proudly exhibit over 900 Vintage Cards and several more De La Rue Cards.
Emotions Greeting Cards© / VH Productions©, 1998-2003 All Rights Reserved

MAIN SITE ~ HOME