---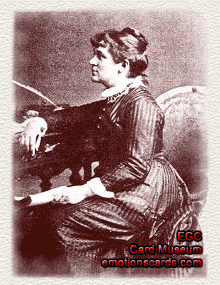 Catherine (Kate) Greenaway was born on March 17, 1846, at Cavendish Street in London to John Greenaway and Elizabeth Catherine Jones.

Having her father being a well-known engraver and an architect, Kate began to show her artistic talent in her early teens. She was raised in a loving family environment and her unique illustration was born from her memories of her happy childhood. Her artwork, illustrations, watercolors and her poems, she had left behind over a hundred years ago gave us valuable information regarding children's life in Victorian time.
Kate spent her summers in Ralston, Nottinghamshire, an English countryside, where her mother moved for the change of air for health. Everyday Kate played in the green and sunny world. Such a happy and carefree childhood would later influence Kate's artwork. The girls Kate drew in her pictures might have been the reflections of herself as a child. Later in her life, Kate wrote about her childhood in Ralston, "Fryer Garden was the most wonderful place amongst all the gardens I knew. My life there was like a paradise." The old English countryside must have been a beautiful place on earth for the innocent, wide-eyed little child as Kate was. From such childhood memories, she repeatedly depicted children with flowers and birds. Kate Greenaway was also fond of dressing the children she created in a quaint fashion reminiscent of the Empire style of the early 19th Century.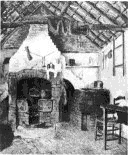 With no formal schooling, Kate was home schooled by local women who themselves had very little education. At age 12, Kate was given an education in art to develop her talent. By age 17 or 18, Kate had received several awards and left some remarkable artwork such as A Kitchen in Ralston, a watercolor, Picnic, a drawing by ink, and painted tiles, etc. Kate worked for the London branch of Marcus Ward and Co. from 1868 to 1878. In 1868, amazingly 25,000 of the first Valentine's Day card Kate illustrated were sold in a few weeks time.

In 1874, when she was 28, Kate illustrated a book called Fairy Gift, written by Katherine Knox. This was the first time Kate's name appeared on the title page of books she illustrated. Kate always wanted to draw and write poems as she pleased and did not wish to do a work she didn't like.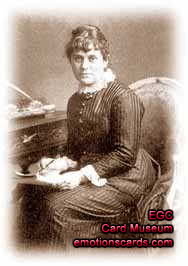 Kate's father was a friend of Edmund Evans, the color printer. When she showed her portfolio of drawings and poems to Evans, he immediately decided to publish them as a collection. In 1878, Kate published her first book, a picture book titled Under The Window. This book was an enormous and immediate success and made an epoch in children's books in the last third of the 19th Century. And her name became well known not only in England but in the rest of the Europe and to the United States.

Kate Greenaway passed away on November 6, 1901, surrounded by several of her friends at her bed side. She was 55 years old.
Many distinguished children's picture books were published in the latter half of the 19th Century. For example, Kate Greenaway's Toy-books, W.S. Gilbert's Bab Ballads, Edward Lear's Nonsense Songs and Stories, Christina Rosseti's Sing-Song, Robert Stevenson's Child's Garden of Verses, and Lewis Carrol's Alice in the Wonderland, etc.


Resource:
Under The Window - Kate Greenaway, the poet of illustration from the gentler era; Shinshokan, Tokyo, 1976.
Kate Greenaway Stickers & Seals; Dover Publications, Inc., 1988
---
Kate Greenaway was one of the most popular figures in British book illustration in the latter part of the 19th Century, rivaled only by Walter Crane and Randolph Caldecott. She is best known for sugar-sweet pictures of little children and girls in bonnets. It can be a little hard for the modern eye to adjust to this, because we are bombarded with so much third-rate stuff of this nature, but Greenaway's pictures are by far the best of the genre, and her simple compositions are very carefully studied.

Kate Greenaway was the daughter of John Greenaway, a wood-engraver for Punch and the Illustrated London News. She studied at South Kensington, where she befriended the painter Lady Butler, and then at the Slade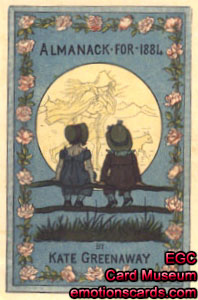 under Alphonse Legros. From 1871 she produced a variety of designs for Christmas and Valentine cards for Messrs. Marcus Ward. When this work stopped in 1877, she started to design book illustrations for Edmund Evans, printer of both Crane and Caldecott. Greenaway's style was to draw in watercolor, and successfully transferring her drawings to the woodblock was costly. However, the illustrations she produced were enormously popular and she became wealthy, able to have a house designed for her in a posh part of Hampstead, where she took up residence in 1885. As well as her book illustrations, Greenaway exhibited her watercolors at the Royal Academy from 1877, and had a widely praised exhibition of her work at the Fine Arts Society in 1891, on which occasion Lord Leighton bought a couple of drawings. Greenaway became a good friend of John Ruskin, maintaining a long correspondence with him.

Kate Greenaway (1846-1901) started working on her first almanac in 1882. At this time she was already a well-known illustrator of greeting cards and books for children. The little almanac for 1883, a little less than four by three inches in size, was published by George Routledge & Sons. It sold for one shilling and immediately became very successful. It contained several full-page illustrations, such as the Old Year and the New Year.



The almanac for 1884 had a soft cover and was larger than the first one, approximately five and a quarter by three and a half inches. The larger format was however not used again for future issues. The great commercial success of this almanac encouraged Kate Greenaway to design four calendars for 1884, but the calendars did not sell and she never repeated the experiment.

The 1884 almanac probably owed its popularity to the relatively large illustrations showing children engaged in various activities that accompanied the page for each month.

A sample of almanacs shows that both author and publisher basically retained the successful format, except for an experiment in 1889. This almanac has soft covers with scalloped edges and is laced together with a blue ribbon. The cover shows a definite art nouveau influence both in the illustration and the typeface. The last few almanac issues had not been successful, partially because the quality of the reproductions had steadily declined due to the illness of the printer, Edmund Evans.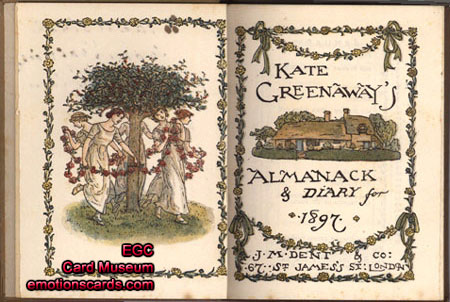 In 1897, a new publisher, J. M. Dent, approached Kate Greenaway about designing an almanac and she accepted. She was, however, not pleased with the edition. J. M. Dent had combined the almanac with a diary and had chosen larger format which seemed to dwarf the illustrations. The 1897 edition was the last one created by the artist.
---
Kate Greenaway's illustrations for children's books have remained so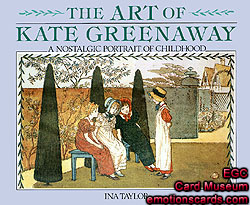 popular the world over that her name has become synonymous with an English childhood. Her England is a world of childhood, where children dance in flowery meadows and characters from nursery rhymes find a life which is forever beautiful and innocent. The quaintly dressed children with their adult expressions were an overnight success in the 19th century and enjoy great popularity today.

Although Kate painted and exhibited extensively, it was through her book
illustrations that she became a household name in England. Her first book, The Birthday Book for Children, sold an amazing 70,000 copies and marked the beginning of her successful, though sometimes unhappy, career.

The Art of Kate Greenaway is the first book to bring together in color such a large selection of Kate Greenaway's work. The book charts her work from her earliest teenage paintings through her student work and her exhibited oil paintings and watercolors to the greeting cards and children's books which made her a celebrity. The pictures are accompanied by a brief biography and an examination of her achievements in the area of book illustration.

Born in 1846, the daughter of a commercial artist and wood engraver, Kate was encouraged to draw from an early age. Her early watercolors, exhibited at the Dudley Gallery in 1868, caught the eye of an editor and led initially to a commission for magazine illustrations and later to designs for Christmas cards and valentines. Her success would become so widespread that it would even earn her introductions at Buckingham Palace.

Ina Taylor is a full-time writer living in rural Shropshire, England. She is the author of several best-selling books in England, and is a former teacher.

THE ART OF KATE GREENAWAY: A Nostalgic Portrait of Childhood
By Ina Taylor
128 pp. 10 1/4 x 8 5/8
Color and b/w illustrations
ISBN:0-88289-867-1
---
Visit our Greeting Card Galleries where we proudly exhibit over 1000 Vintage Cards.
Emotions Greeting Cards© / VH Productions©, 1998-2003 All Rights Reserved

MAIN SITE ~ HOME